Manufacturers failed to warn of the dangers of fiberglass exposure from mattresses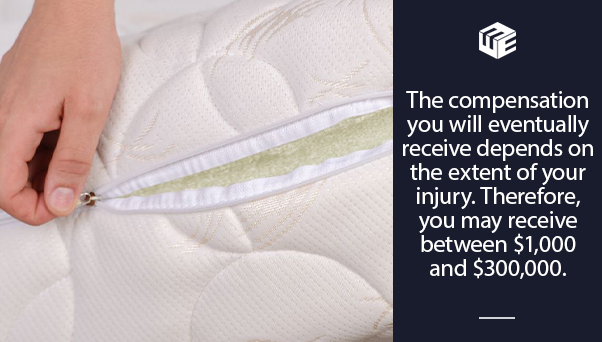 Because Ashley and Nectar failed to warn consumers of the dangers of exposure to fiberglass in their mattresses by adding a zipper on the outer cover of the product and by not including a warning on the label, you have the right to seek financial compensation if glass fibers injured you.
Therefore, it is essential to work with a lawyer specializing in toxic exposure and product liability. They have the necessary knowledge and resources to help you obtain the most favorable outcome for your case.
The amount of compensation you will eventually receive highly depends on the extent of your injury. Accordingly, you may receive between $1,000 and $300,000.
Even if you do not think your injury is serious enough to seek compensation, we strongly encourage you to reach out to our legal team, as we can help you recover the largest sum of money available for your suffering.
File a claim with the mattress company with the assistance of our skilled legal team
In the unfortunate event that the glass fibers injured you in an Ashley or Nectar mattress, you can recover the compensation you deserve with the help of our experienced legal team. We will file a claim with the company for you, which will eventually result in the maximum compensation you are entitled to for your injury.
The only documents we will need from you are proof of you owning a mattress with fiberglass and evidence of injury. If your home was also contaminated with fiberglass, we will also need proof of that, such as photos and videos.
If a Nectar or Ashley mattress injured you we will have you file a claim with the responsible manufacturer.
If you choose to work with our legal team, which is free of charge unless we recover financial compensation on your behalf, you are bound to receive the largest sum of money available for your injury from the liable company.