Having a knowledgeable attorney file your claim will increase your chances of approval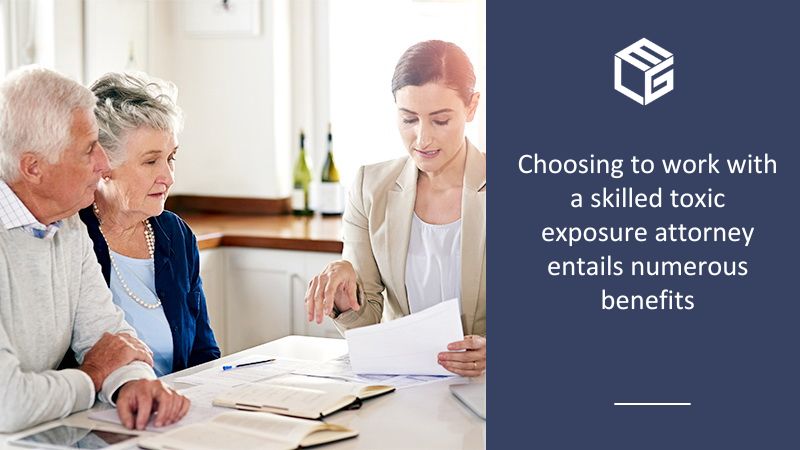 To file a toxic exposure claim, you need to have a thorough understanding of the legal system and consider the many processes and steps involved in filing a claim, such as liability determination, assessing the damages, and defining negligence.
These are only a few considerations in a military base toxic exposure claim.
So, you can only imagine how complex and demanding filing a claim is, even for an experienced attorney.
Choosing to work with a toxic exposure attorney entails numerous benefits, such as:
they can properly assess your injury
they can estimate future medical costs and needs
they can gather additional evidence to support your claim
they can determine liability
they can build a strong argument to favor your claim
they can work on your claim with minimal involvement from you
Most attorneys who take up toxic exposure cases work on a contingency fee basis, and so do we. This means that you will not have to pay anything out of pocket unless we obtain financial compensation for you from the liable parties. Consequently, hiring a reputable and experienced attorney is crucial in having your military base toxic exposure claim result in the compensation you deserve for your suffering. With their assistance, you will only have to explain your situation, answer their questions, and send them your military and medical records.
Quality legal assistance for veterans injured by toxic exposure at military bases
With over 30 years of experience, our attorneys have what it takes to assist you in filing your toxic exposure claim if you are a veteran who spent time at a contaminated military base and now struggle with a disease. To initiate the legal process, you just have to give our law firm a call and provide us with your military records, which you must retrieve, and your medical records stating your diagnosis and explaining how it relates to toxic exposure.
Following a thorough assessment, we will let you know whether you are entitled to financial compensation. If you are, our skilled legal team will promptly begin preparing your claim for submission. Veterans will also have their claims filed with the VA so they can obtain disability compensation if they have a crippling illness such as cancer. Eventually, if our endeavors are successful, you will receive the maximum compensation you qualify for from the liable parties.