Under the PACT Act, veterans are entitled to VA healthcare and disability compensation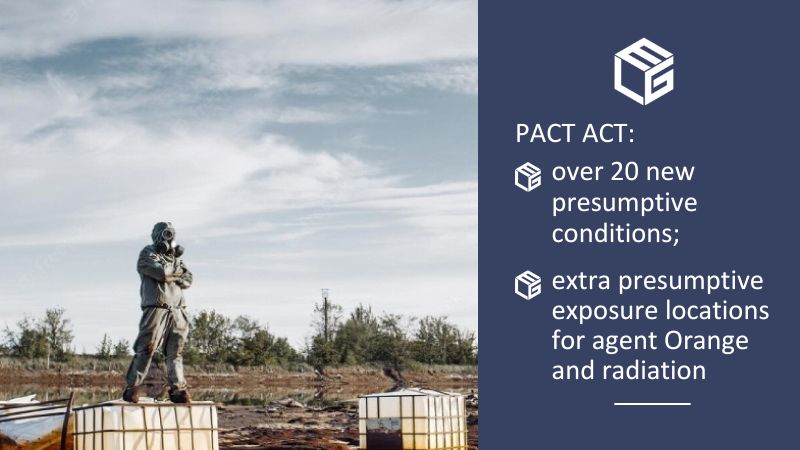 Because the process of filing a VA claim is complex and tedious, it is best to have a knowledgeable and experienced attorney help you.
Filing on your own is possible, but you risk your claim being rejected or receiving a significantly lower sum of money than you are entitled to.
Veterans with cancer are usually deemed 100% disabled, and they can obtain the maximum VA disability compensation.
These are the necessary documents to file a VA disability claim if you were exposed to toxic agents on military bases:
DD214 or other separation documents
service treatment records
any medical evidence concerning your illness or injury
You will have to retrieve your military records yourself and subsequently provide these documents to our attorneys so that they can evaluate your case. Still, your medical records are also very important, as they will help our legal team estimate what your disability rating will be if you are eligible to file a VA disability claim. It is important to know that, as a veteran, you can request compensation by filing a military base claim but also by filing a VA disability claim. Our skilled attorneys can help you file both, as we have been assisting veterans for over three decades.
We can efficiently help you file a VA disability claim for military toxic exposure
Our attorneys have been assisting veterans for over 30 years and have what it takes to help you file a VA disability claim and a toxic exposure claim. All you have to do is send our team your military records, which you must retrieve, and your medical records. Your involvement in the legal process will be minimal, as we understand how overwhelming and difficult struggling with a disease like cancer can be.
If we deem you eligible, we will promptly begin preparing your claims for submission. Veterans who are too ill to participate in the legal process can ask a family member for help, and our compassionate team will also go to great lengths to make it as easy to navigate as possible. We will take care of the most complex aspects on your behalf. It is important to note that our law firm works on a contingency fee basis.