You need to file a claim to request financial compensation from an asbestos trust fund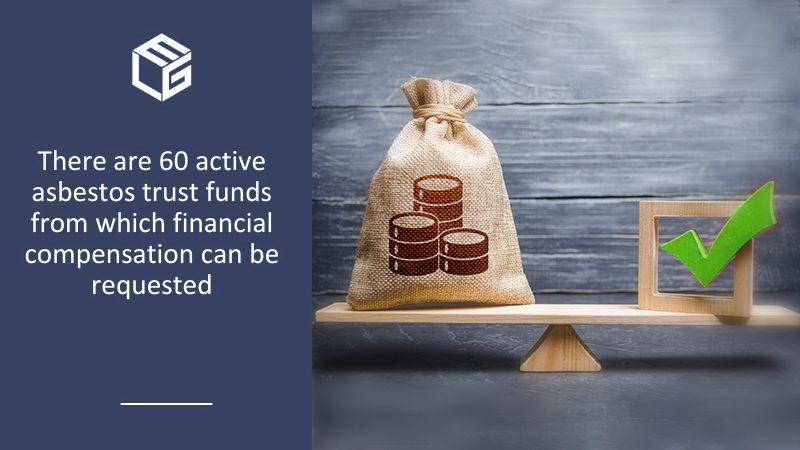 Shortly after the first asbestos trust fund was established by Johns Manville in 1988, nearly 100 other asbestos companies proceeded to file for bankruptcy reorganization under section 524(g) of the U.S. Bankruptcy Code.
There are 60 active asbestos trust funds from which former workers severely injured by long-term occupational asbestos exposure can request financial compensation.
Although the process of recovering compensation is not complex in itself, there are numerous factors that could prevent your claim from being approved by the board of trustees if you choose to file by yourself.
Additionally, there are a series of important aspects only a lawyer specializing in asbestos litigation will know how to properly take care of to ensure you will receive the maximum compensation you are eligible for. 
Each asbestos trust fund is managed by a board of trustees who do not have any connection with the company's executives or staff. In order to request financial compensation from a certain asbestos trust fund, you have to file a claim. While you can file it on your own, it is highly advisable to seek the help of a lawyer specializing in asbestos litigation, as there are a lot of factors that might negatively impact your chances of recovering the money you deserve. A legal team with vast experience in asbestos cases will promptly take care of all the necessary paperwork before submitting your asbestos claim.
The eligibility requirements claimants have to meet are slightly different for each asbestos trust fund. However, providing your work history and your medical records is always necessary in order to support the causal relationship between asbestos exposure and your diagnosis. If you work with a lawyer, their legal experts will gather additional evidence in this respect so that the connection between exposure and your illness will be unquestionable. This way, your asbestos claim is guaranteed to be approved.
Your asbestos claim can be submitted via expedited review or individual review. The former entails a non-negotiable amount of money, while the latter takes into consideration factors such as your specific diagnosis, your age, and your jurisdiction. A lawyer will be able to advise you on what the best type of submission would be for your particular case. After your asbestos claim is submitted, you will have to wait for it to be approved by the board of trustees. The waiting time will depend on the size of the asbestos trust fund in question, as well as on the number of claims they have to process. In general, asbestos victims who file a claim with the help of a lawyer receive compensation within 3 to 6 months.
What do you need to file an asbestos claim?
Lawyer

An experienced attorney specializing in asbestos litigation cases can help you tremendously through the process of filing a claim and can also negotiate with the trust funds to obtain the maximum compensation for you.

Medical Records

A formal diagnosis supporting the causal relationship between your disease and occupational exposure to asbestos is crucial for your claim to be deemed valid following submission.

Work History

You will be required to provide your lawyer with documents that clearly state that you were an employee of the company in question, what your job entailed, as well as the period of time you had worked there.

Patience

It may take from several months to over one year to be awarded the financial compensation you are entitled to and thus, patience is essential. However, a lawyer with significant experience in asbestos cases may be able to speed up the process considerably.
If you are struggling with cancer that developed as a result of workplace asbestos exposure, we strongly encourage you to take legal action. Within the past 30 years, the diligent attorneys at Environmental Litigation Group, P.C. have recovered $1.4 billion for over 25,000 asbestos victims and their families. It is important to note that, as a veteran intending to take legal action, you will have to send our attorneys your military records, which you must retrieve, and your medical records.