Who is primarily liable for my exposure to asbestos?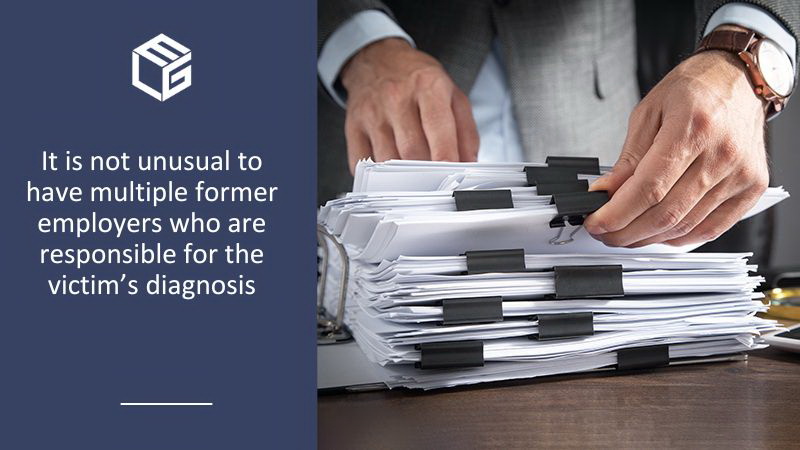 During the last century, asbestos, a naturally occurring carcinogenic mineral, was highly prevalent in industrial facilities. As a consequence, over 75 occupational groups were exposed to it.
It is not unusual for a victim of workplace asbestos exposure to have multiple former employers who are responsible for their diagnosis. However, you can only file a claim for asbestos exposure only if you have cancer diagnosis.
Numerous former industrial workers had more than one job which involved asbestos exposure, as asbestos was extensively used before 1980 due to its convenient properties.
Therefore, they are eligible for compensation for multiple asbestos trust funds, since all of their employers are responsible for their suffering. Some of the companies that have extensively used asbestos in their products and that have potentially put at high risk the health of their employees and of those working with their products are:
Occupations at the highest risk of asbestos exposure
The most common way you could have been exposed to asbestos was through your workplace, industrial jobs, or serving in the Navy/Air Force/Marine/Military/Army/Coast Guard. The following professions present the highest rates of risk of asbestos exposure from airborne dust exposure while working:
Recovering compensation from asbestos trust funds
Many asbestos companies filed for bankruptcy as a result of the increasing number of asbestos lawsuits, and they set up asbestos trust funds so that former workers could recover the compensation they deserved for their physical and emotional distress.
There are approximately 60 asbestos trust funds in the United States today. People who were exposed to asbestos by more than one employer can file a claim to recover compensation with the asbestos trust fund of each liable company. In the rare cases that the company is still in business, a lawsuit will be filed against it. Still, most asbestos companies have asbestos trust funds, so compensation can be recovered in a relatively short time with the assistance of a lawyer who specializes in toxic exposure cases. Because filing a claim for asbestos exposure is a very complex process and strong evidence is necessary to support it, it is recommended to take legal action with the help of a lawyer who has vast experience in toxic exposure cases, as they will be able to speed up the process significantly and take care of the necessary documents along with their legal team on your behalf.
While you can file a claim with asbestos trust funds on your own, you will most likely fail to recover the compensation you deserve, since there are numerous documents that need to accompany your asbestos claim. Only a lawyer whose area of practice is asbestos exposure can properly file a claim with one or multiple asbestos trust funds. With the help of a specialized attorney, you are bound to obtain the maximum compensation you qualify for.
We provide legal assistance to former industrial workers injured by asbestos exposure
Since 1990, our law firm has been pursuing toxic exposure cases, and our attorneys specialize in recovering compensation for asbestos exposure victims. While the legal process is complex and tedious, your involvement will be minimal, as our legal team will take care of most aspects involved.
Following the initial discussion, during which you will have to describe the circumstances under which you were exposed to asbestos, you will only need to provide your attorney with your employment and medical records, as these documents will be used as evidence of occupational asbestos exposure and of related diagnosis.
Our attorneys will file your claim with one or multiple asbestos trust funds, depending on the number of former employers who exposed you to asbestos, and you will eventually receive the compensation you are entitled to. Finally, veterans who worked in industrial settings where asbestos was present during their military service are also entitled to compensation and will have to send our legal team their military records, which they must retrieve, and their medical records.