You must have been exposed to AFFF for several years for a disease to develop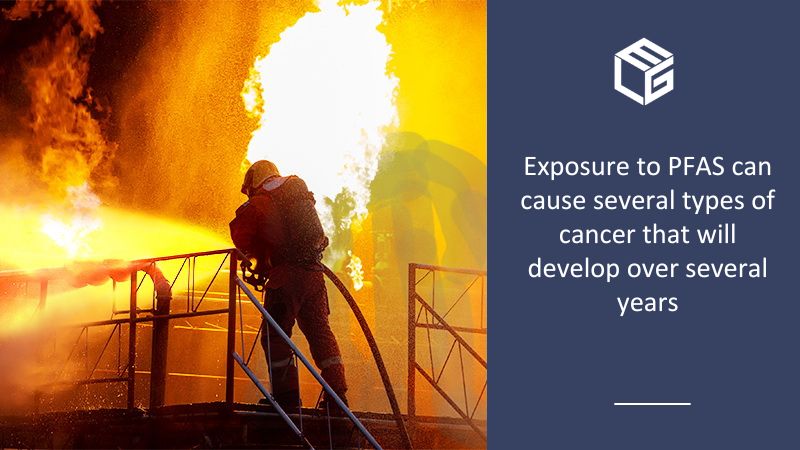 While AFFF is not dangerous in and of itself, it is the two groups of chemicals in it, namely PFOS and PFOA, which are highly toxic to our health. Thereby, exposure to AFFF can lead to various forms of cancer over the course of several years.
It usually takes a few years from the first exposure for a disease to develop. The risk of developing cancer also depends on the amount of PFOS and PFOA you are exposed to, in addition to the duration of the exposure.
Furthermore, you have more chances to develop a disease if you are occupationally exposed to AFFF, as opposed to environmental exposure.
For this reason, firefighters and military personnel who regularly use AFFF have the highest risk of cancer as a result of exposure to PFOS and PFOA.
Studies have shown that PFAS primarily settle into the blood, kidney and liver
Studies in humans suggest that even very low levels of PFAS exposure may not be completely safe for human health. Ongoing exposure to low levels of PFAS can lead to concentrations in the body high enough to potentially increase the risk for many serious diseases and health conditions.
Research has found evidence that links aqueous film-forming foams with the development of cancer in its users. Those that have been exposed to the dangerous chemicals by ingesting them orally, absorbing them through the skin, or inhaling them through the air are at risk of developing various types of cancer.
Diseases associated with exposure to the allegedly noxious substances in firefighting foam include:
Firefighters have a higher risk of developing cancer as a result of constant exposure to AFFF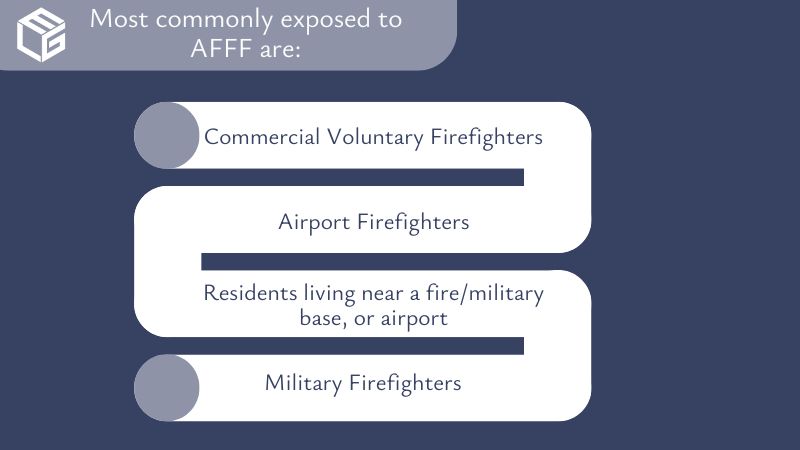 The greatest risk for cancer caused by firefighting foam is to those who have been exposed for a long period of time, especially without understanding the risk. Those most commonly exposed to AFFF are:
commercial and voluntary firefighters
military firefighters
airport firefighters
residents living near a fire/military base, or airport
Of course, firefighters have the highest risk of experiencing health issues because of the increased exposure to AFFF during training and while fighting fires in real-world scenarios. Certain airport workers and military personnel are also commonly exposed to AFFF because of the need to fight fuel-based fires on the job. The final group most commonly exposed includes oil and gas workers which might be exposed to the carcinogens when a fire breaks out at the workplace and firefighting foam is needed.
Quality legal assistance for people who were exposed to AFFF on the job
If you are a firefighter or a member of the military who was exposed to AFFF and subsequently developed a form of cancer, you should know that you have the legal right to seek compensation from the company responsible for your injury.
With over 25 years of experience in providing legal assistance to victims of toxic exposure and their family members, our attorneys will help you recover the compensation you deserve. As a veteran, you will have to send our attorneys your military records, which you must retrieve, and your medical records.
After carefully assessing your case, they will file a lawsuit against the company which manufactured the AFFF you were exposed to, which will be accompanied by solid evidence of your exposure and of your related diagnosis, such as your employment records and your medical records.
If more than one company is liable for your diagnosis, our lawyers will file a lawsuit against all the responsible parties to obtain the maximum compensation you are eligible for. It is important to keep in mind that we work on a contingency fee basis, which means that you will not have to pay our law firm anything unless we recover compensation for you.