Our law firm is handling these cases on an individual basis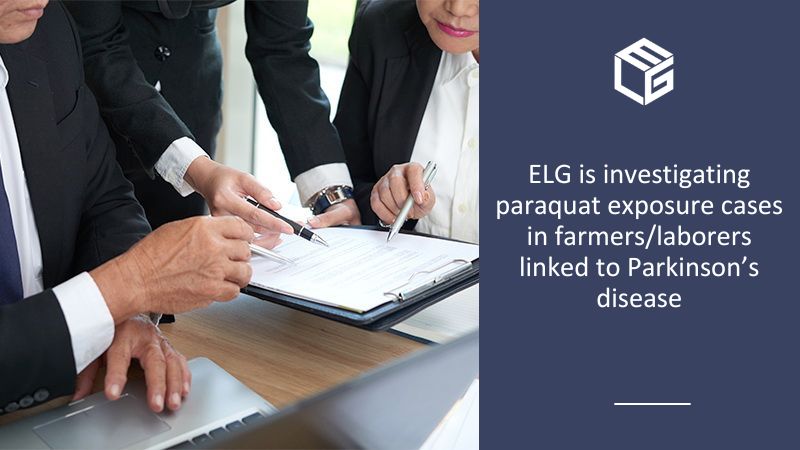 Anyone who has been continuously exposed to paraquat-based products and was later diagnosed with Parkinson's disease may have a valid claim to seek compensation for their suffering.
At Environmental Litigation Group, P.C., we are reviewing cases where farmers, agricultural laborers, or other working individuals have used or been exposed to the commercial herbicide paraquat and later diagnosed with Parkinson's disease as a consequence.
Nevertheless, your involvement in the legal process, even as a family member, will be minimal, as our resourceful legal team will efficiently take care of most aspects of the process on your behalf.
By filing a paraquat claim, not only will you recover the money you deserve for the suffering of your family member, but you will also hold accountable the companies that manufacture this dangerous herbicide. How do you get started with a paraquat claim?
Call our law office or fill out our claim application
Our law firm will review your answers and send you the confirmation
If you qualify, we will contact you to discuss the details of your potential case free of charge
Was there a class-action lawsuit against paraquat manufacturers?
Before people began filing claims instead of lawsuits, there was a class-action lawsuit against Syngenta, one of the most renowned manufacturers of paraquat. Over the years, this class action lawsuit included other liable companies, such as Growmark.
The lawsuit was filed in St. Clair County, Illinois by at least a dozen farmers and agricultural workers who developed Parkinson's disease following exposure to paraquat.
One of the main reasons why people sought compensation for their diagnosis is because the paraquat manufacturers had been aware that the use of the herbicide could lead to Parkinson's disease, but failed to warn consumers of this crucial aspect.
Today, if you were exposed to paraquat and came to struggle with Parkinson's disease, you can file a claim with the liable company with the help of our legal team. The assistance of a family member is essential, as people who suffer from this brain disorder often have a difficult time clearly explaining their situation. 
If you or a loved one were exposed to paraquat we urge you to contact us today
If you have been exposed to paraquat and subsequently developed Parkinson's disease or signs of developing Parkinson's, it is very important to seek help from an attorney who specializes in product liability and toxic exposure, to guide you through the claim. Environmental Litigation Group, P.C. can help you determine if you meet all the preliminary eligibility requirements for a claim.
We offer no-obligation consultations, and if you choose to pursue a claim for compensation, we can assist you throughout the legal process. The compensation that you receive can cover your medical expenditure, lost income, and all the loss you have sustained as a result of using the commercial herbicide paraquat.