Paraquat is completely degraded by soil microorganisms within 6 years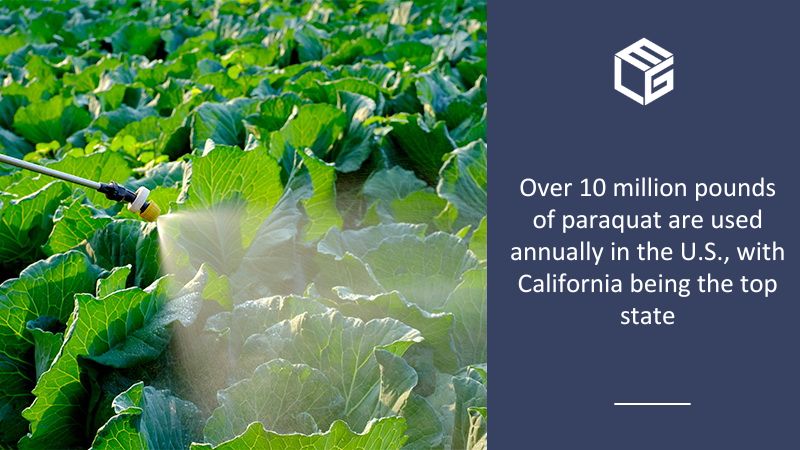 Because it is very effective in destroying unwanted weeds and vegetation, paraquat is currently applied to numerous crops.
The following are the main crops paraquat is applied to in the US:
wheat
corn
soy
almonds
peanuts
garlic
cotton
artichokes
sweet potatoes
strawberries
pears
grapes
citrus trees
potatoes
rice
apple trees
Interestingly, the herbicide is also sprayed on tobacco crops, and in the past, it would also be applied to golf courses. However, paraquat use on golf courses was banned by the EPA, so you cannot be exposed to the herbicide if you play a round.
Since 1964, when it was first devised by Syngenta, paraquat has been used in enormous amounts nationwide. Over 10 million pounds of paraquat are used every year in the U.S. California is the leading state when it comes to paraquat use. Once in the soil, the herbicide takes six years to completely degrade, so it is very likely to contaminate groundwater. While approximately 60 countries have completely banned paraquat, this has yet to happen in the U.S.
File your paraquat exposure claim with the assistance of our attorneys
Since 1990, our law firm has been dedicated to offering quality legal assistance to toxic exposure victims, and now we offer free case evaluations to people injured by paraquat exposure. Whether you were directly exposed to the herbicide by using it or indirectly by living near a farm, you might be entitled to compensation from the responsible companies. The legal process is simple – you only have to send in evidence of you having used paraquat and your medical records stating your diagnosis of Parkinson's disease.
Once we carefully assess these documents, we will tell you with certainty whether you are eligible to file a paraquat exposure claim. If you are, our resourceful legal team will promptly begin working on your claim and prepare it for submission. Your involvement in the legal process will be minimal, and if you feel too ill to participate, a family member can help you navigate it. In the end, if our efforts are successful, you will receive the financial compensation you are entitled to for your unjust suffering.