When reviewing your claim, the VA will base their decision only on your disability level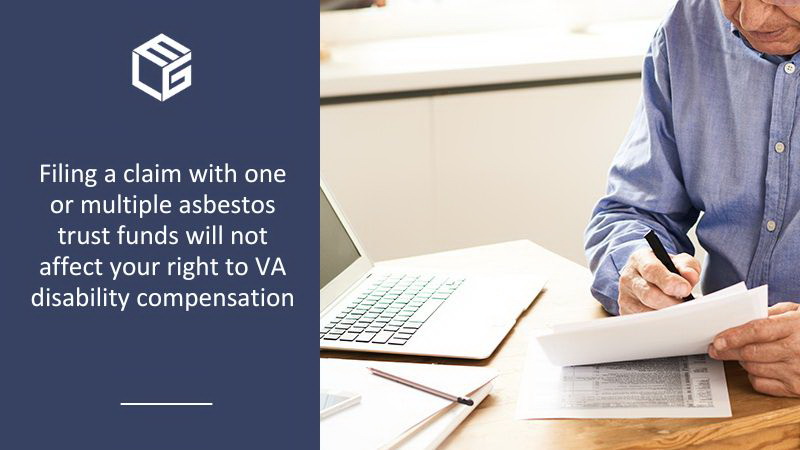 If military asbestos exposure is responsible for your disability, you can successfully apply for VA benefits such as disability compensation or health care, regardless of whether you currently receive money from asbestos trust funds.
When assessing your eligibility for disability benefits, the VA takes into consideration only your disability level, which can range between 0% and 100%. Your income and assets do not influence their decision.
There are several factors that contribute to a successful asbestos claim on a bankruptcy trust including proof of disease, proof of exposure, and the support of a legal team specializing in asbestos cases.
The amount paid by asbestos trust funds will not affect your VA disability claim
As a veteran, you have the legal right to seek financial compensation from asbestos trust funds and apply for VA disability benefits as well. The only concern of the VA, financial-wise, is to prevent veterans from claiming compensation multiple times for the same illness, a practice that is colloquially known as double-dipping. Therefore, you can rest assured that the money you receive from asbestos trust funds will not affect the VA's decision with regard to your disability claim.
It is worthy of note that, if you are 100% disabled and need the assistance of another person to perform daily tasks such as eating, dressing, and bathing, you will also be eligible for special monthly compensation, a benefit that is tax-free. However, you cannot receive both disability compensation and special monthly compensation at the same time as a veteran injured by military asbestos exposure. The VA will decide what benefit is the most suitable for you with your consent.
Another benefit your family may receive after you pass away from your disease caused by military asbestos exposure is dependency and indemnity compensation. The following family members can receive dependency and indemnity compensation if you pass away:
unmarried children under the age of 18
unmarried children under the age of 23 who attend school
children with disabilities
Finally, as a veteran injured by military asbestos exposure, you can receive low-cost or free healthcare from the VA. Depending on your income, as well as on your disability rating, the VA will decide if you will receive affordable or free of charge healthcare from their medical facilities.
We can provide you a clearer and easier path through the process of a VA claim
Are you struggling with cancer as a result of military asbestos exposure? With over 30 years of experience in asbestos litigation, our attorneys also provide quality legal assistance to veterans who intend to file a VA disability compensation claim.
Because of the inadequate evidence proving that the disability is service-connected or insufficient medical evidence to support the disability, VA claims often get denied.
Therefore, as a veteran, you will have to send our legal team your military records, which you must retrieve, and your medical records.
Subsequently, our experts will conduct extensive research to gather additional reliable evidence for your asbestos claim so that you will receive the maximum amount of compensation you are eligible for in the shortest time possible.