Mercury, also known as quicksilver, was found lurking in 32% of baby food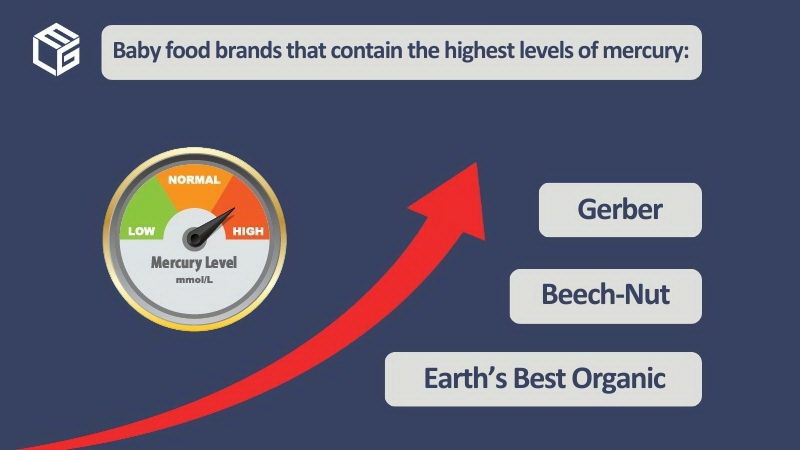 This heavy metal is extremely poisonous, and people can be exposed to it via inhalation of the vapors, skin contact, and ingestion of tainted food. If mercury is accidentally swallowed once, it will most likely pass through your body, and very little of it will be absorbed.
However, if a child is fed baby food containing significant concentrations of mercury on a regular basis, the heavy metal, which is also a neurotoxin, will accumulate in their bodies.
Mercury has the ability to cross the blood-brain barrier, which means that it can take a heavy toll on the developmental, neurological, and behavioral health of the child later in life.
The following are the brands of baby food that contain the greatest levels of mercury:
Gerber
Beech-Nut
Earth's Best Organic
A dangerous concentration of mercury in baby food is any concentration over 1 part per billion, although some health organizations claim that up to 3 parts per billion are safe in baby food. To remain on the safe side, we advise you to cease purchasing these brands until the issue of heavy metal contamination becomes clear or until the products of concern are taken off the shelves.
Our resourceful lawyers will help you recover compensation for your child if they have autism
We have been dedicating our endeavors to offering quality legal assistance to every victim of toxic exposure who requests our help, and we have been doing this since 1990, which means that we have what it takes to handle your case.
If you gave your baby toxic food and they later developed a form of autism, please give us a call, as our skilled attorneys will be able to recover financial compensation for you from the liable companies.
All you have to do if you decided to file a toxic baby food claim is contact our legal team, explain your situation, and send us the medical records of your child.
Our attorneys will examine your case and eventually inform you whether you qualify for filing a claim. If you do, they will quickly begin preparing it for submission. It is important to know that your participation in the legal process will be minimal after we have all the necessary questions answered by you, as we know that parents with children who have autism need more time for caretaking. You will ultimately obtain the best results for your child.