Both civilian and military firefighters may have a claim for substantial compensation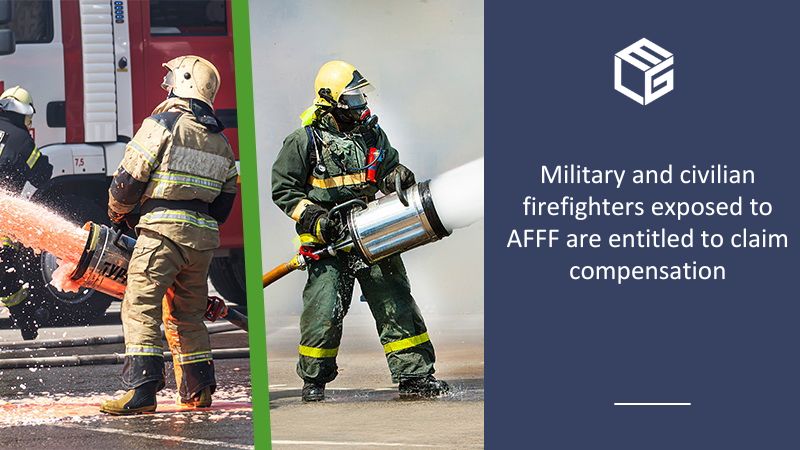 PFAS can concentrate over time in the human body through a process known as bioaccumulation. The PFOA half-life in humans is anywhere from two to four years, while other PFASs have been shown to have a half-life of over eight years.
Ongoing exposure to low levels of PFAS can lead to concentrations high enough to potentially increase health risks.
Individuals most likely to have concerns regarding PFAS containing AFFF exposure include:
Civilian firefighters, including volunteers, when existing PFAS containing AFFF stock are used for emergency fire suppression.
Military personnel - in addition to the civilian firefighters, those that work as firefighters in the military in every branch are at a very high risk of developing cancer caused by AFFF exposure. The U.S. Armed Forces have been using PFAS-based firefighting foams since the 1960s. Much like civilian firefighters, military personnel may have been exposed even outside of actual firefighting emergencies during training exercises and non-critical missions.
Legal assistance to firefighters and military personnel
Our team of experienced lawyers will hold accountable the manufacturers who knew of the dangers of these products and make sure you receive full compensation for the harm done to you. We will walk you through every step of the process and maintain close communication with you in regard to your case's progress.
All we will need from you if you want to file a claim is your employment or military records, which you must retrieve, and your medical records. You do not have to pay our fees unless we recover compensation for you, so you should not hesitate to explore your options with Environmental Litigation Group, P.C.