Our law firm will do the hard work for you when it comes to the legal process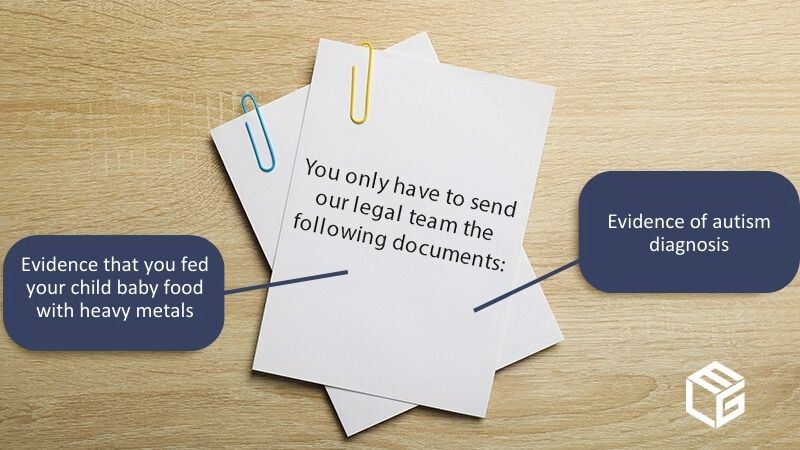 We specialize in toxic exposure cases, having been pursuing compensation for people whose health was affected by hazardous agents for over two decades.
Therefore, our law firm has the ability to gather irrevocable evidence to help support your toxic baby food claim.
Every case is unique and challenging, as the link between exposure to heavy metals from tainted baby food and autism cannot be proven with just a few documents. We will need solid and pertinent evidence to accompany your claim.
Otherwise, it will not result in the compensation you are seeking for your child. This is where our legal experts step in, who are responsible for gathering all the necessary proof for your case.
Therefore, your participation in the legal process will be minimal, as you will only have to send our legal team the following documents:
evidence that you fed your child baby food with heavy metals, if possible
the medical records of your child, which must state their diagnosis and the age they received it
If you do not have evidence that you gave your baby tainted food, you should not worry, as there are many ways of proving that your child has high concentrations of heavy metals in their body, such as a blood test. Consequently, you can rest assured that everything will be carefully and efficiently taken care of by our experienced attorneys and resourceful legal team on your behalf. This way, you will have the time you need to take care of your child and to attend to more urgent matters, such as their treatment.
File your toxic baby food claim with the assistance of our skilled attorneys
Parents who fed their baby food with heavy metals without being aware of the issue are encouraged to seek financial compensation if their child developed autism, as companies failed to properly test products for the presence of neurotoxins.
Our attorneys, who have been dealing with toxic exposure cases for over 30 years, are ready to provide you with superior legal assistance.
All you have to do if you decided to file a toxic baby food claim is to give us a phone call, describe your situation, and send us the medical records of your child.
After a thorough review of your case, you will know with certainty whether you are eligible to file a claim. If you are, our lawyers will quickly begin preparing it for submission. Your participation will be minimal and, in the end, you will receive the largest sum of money as compensation for your child.