Over seven baby food companies are currently dealing with lawsuits filed by outraged parents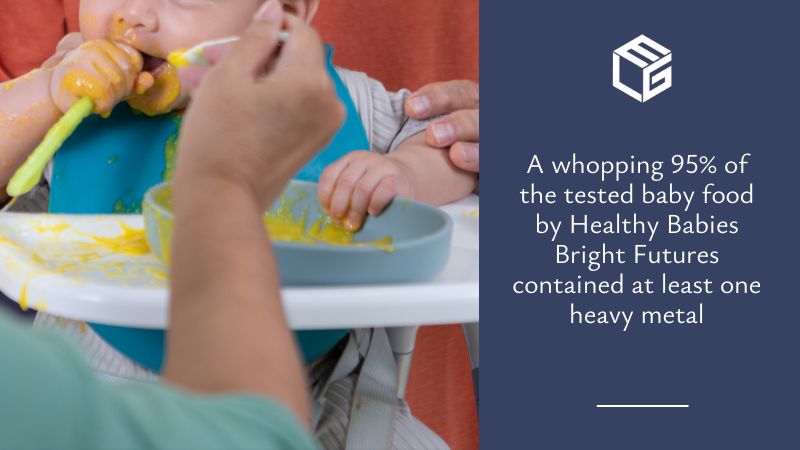 The report of the U.S. House of Representatives listed seven major baby food manufacturers from the country that were found responsible for failing to test their finished products for heavy metals.
As a consequence, the level of neurotoxins in their baby food greatly exceeded the permissible limit.
There is a strong link between frequent exposure to heavy metals that occurs via ingestion and autism spectrum disorders.
For this reason, parents whose children came to struggle with a neurodevelopmental disorder took legal action against the baby food companies, which include the following:
Beech-Nut
Earth's Best Organic
Gerber
Happy Family Organics
Plum Organics
Kroger
Parent's Choice
Mum-Mum
Cream of Wheat
Kitchdee Organic
Similac
Healthy Times Organic
However, it is essential to know that there are numerous other smaller baby food companies that also manufacture products with high concentrations of heavy metals. For this reason, the report of the Subcommittee on Economic and Consumer Policy in the House of Representatives also calls for the following:
mandatory heavy metals testing in finished products, not just in ingredients
writing the concentration of heavy metals on the label of each product
the FDA setting maximum limits for each heavy metal to be allowed in baby food
In the unfortunate event that your child is one of the numerous who developed a disorder on the autism spectrum as a result of having been fed toxic baby food, our attorneys and legal team will efficiently help you recover the compensation you are entitled to from the responsible companies. We will file a claim on your behalf, which will result in money for you and your child.
We are ready to help you file a toxic baby food claim if your child has autism
We are here to lend you a helping hand if you gave your child toxic baby food and they subsequently developed autism.
To file a toxic baby food claim, all you have to do is give us a call, explain your situation, answer our questions, and send us the medical records of your child. Our attorneys will carefully review your case to determine whether you qualify for compensation.
If you do, they will quickly begin working on your claim while you can attend to more urgent matters, such as caring for your child. This is because your participation in the legal process will be minimal after we gather all the information we need from you.
In the end, you and your child will benefit from the money you deserve from the liable companies.