Firefighters most commonly exposed to AFFF and the chemicals it contains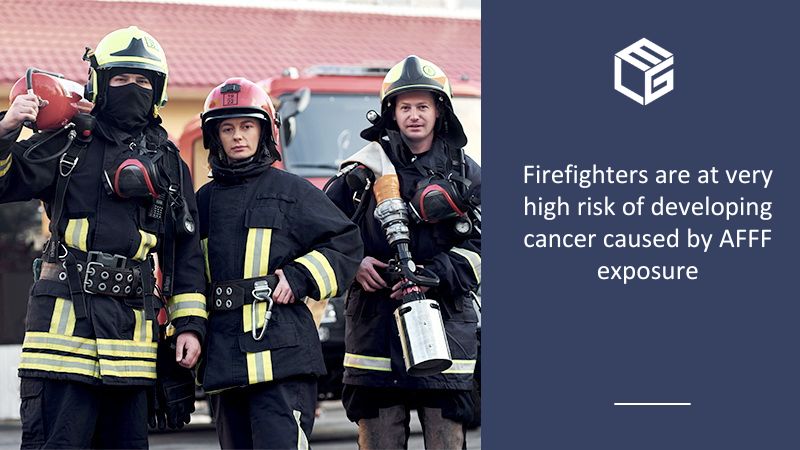 Because the PFOS and PFOA, two groups of dangerous chemicals, are present in AFFF, those who are exposed to it for a long time are at high risk of developing certain cancers. However, it is worthy of note that these diseases occur after several years following exposure to AFFF.
Because they use AFFF on a regular basis while performing their job, firefighters are susceptible to develop a disease as a result of exposure.
Firefighters all over America have used AFFF without any knowledge of its potentially harmful properties for decades. Carcinogenic PFAS chemicals in AFFF can be absorbed through the skin and inhaled leading to a buildup in the body which causes health problems.
Firefighters that have used AFFF to put out fires came into regular contact with potentially harmful substances despite wearing protective gear. These substances get on their equipment which is often handled without protective gear and then absorbed into the body.
Military personnel who regularly use AFFF is at high risk of developing serious health issues
In addition to the civilian firefighters, military personnel in all service branches are also at a very high risk of developing serious health issues caused by AFFF exposure. In the 1970s, the Department of Defense began using AFFF, which contained high concentrations of PFAS, to extinguish hydrocarbon fuel fires.
The foam has the unique property of forming an aqueous film on the fuel surface that prevents evaporation and reignition of the fuel once it has been extinguished by the foam. Unfortunately, AFFF manufacturers knew the dangers the chemicals in their products posed but negligently concealed its dangerous effects and failed to warn the military.
Consequently, those that work as firefighters in all four branches of the military are at a very high risk of developing cancer caused by AFFF exposure. The United States Armed Forces have been using firefighting foam, specifically aqueous film-forming foam, since the 1960s. Much like civilian firefighters, they may have been exposed even outside of actual firefighting emergencies when training in AFFF use.
Recovering compensation as a victim of AFFF exposure
If you are a firefighter or someone who has been using AFFF in the military and came to struggle with a disease as a result of exposure, you are eligible for compensation from the company which manufactured the hazardous product.
With over 25 years of experience in pursuing compensation for the victims of toxic exposure, our attorneys will help you file a lawsuit against the liable company so that you can obtain the financial compensation you deserve for your diagnosis.
Even though the legal process is complex and tedious, your involvement will be minimal. You will only have to provide your attorney with your employment or military records, which you must retrieve and which must state that you worked with AFFF, as well as with your medical records, which need to state your diagnosis and how it is related to exposure to PFOS and PFOA.
Afterward, your attorney will begin preparing your case, while our legal experts will gather additional evidence from our vast database to support your lawsuit. Eventually, we will achieve the most favorable outcome for your case. Nevertheless, because toxic exposure cases are very complex, you should expect a resolution after several years following claim submission.