There are currently over 60 asbestos trust funds in the United States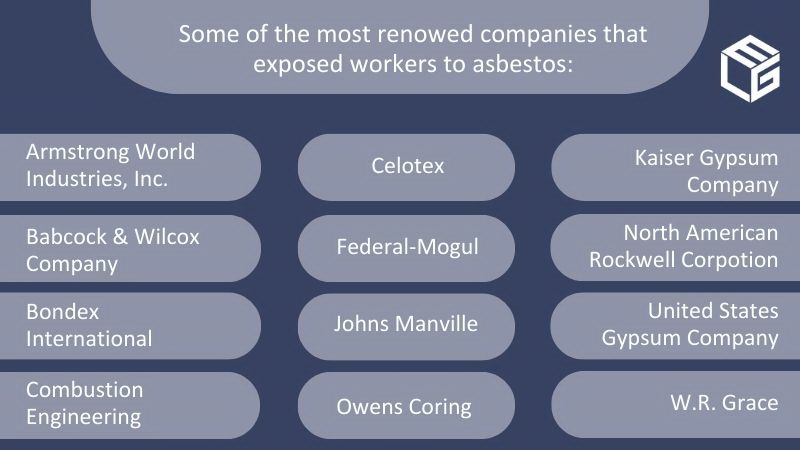 Because asbestos was a very common material between 1920 and 1980, it was present in numerous industries, which led to heavy toxic exposure among workers from a wide range of occupations. As a naturally occurring mineral, asbestos has many convenient properties, such as durability and fire resistance, and was also widely available and inexpensive to purchase during the last century.
Therefore, it should come as no surprise that millions of people were exposed to it, out of which approximately 20% will develop a serious disease. Veterans, particularly those who served in the U.S. Navy, were also heavily exposed to asbestos, which is why over 30% of them struggle with mesothelioma today.
Due to the increasing number of lawsuits filed against them after 1980, approximately 60 companies that manufactured asbestos products filed for bankruptcy and subsequently set up asbestos trust funds so that former injured workers could recover the financial compensation they were entitled to. You can find a list of the most notorious asbestos companies in our database by searching their names.
Some of the most renowned companies that exposed workers to asbestos during the last century and have asbestos trust funds are:
Recovering compensation from asbestos trust funds is significantly easier than filing a lawsuit, since it only requires filing a personal injury claim and, thereby, the legal process is much faster. People usually receive the money they are eligible for within 3 months to one year from claim submission.
Why is it essential to contact an attorney specializing in toxic exposure?
If you are a former industrial worker or a veteran whose health was affected by asbestos exposure, it is crucial to file your claim with the assistance of a lawyer who specializes in toxic exposure, as they are the only professionals who can efficiently gather the necessary evidence to support your claim. Working with a specialized attorney is essential, as the chances of obtaining the maximum compensation you deserve from the liable asbestos companies are very small if you initiate the process on your own, as the legal process is quite complex and challenging.
The majority of law firms whose main area of practice is toxic exposure, including ours, work on a contingency fee basis, which means that you do not owe the legal team anything unless they recover compensation on your behalf.
This way, your attorney will be able to thoroughly prepare your claim for submission. If you were exposed to asbestos by multiple companies, your claim will be filed with the trust funds of all of them so that you can benefit from the maximum compensation available.
What if the company responsible for my asbestos exposure is not in your database?
If the company that exposed you to asbestos is not in our database, our legal experts will conduct extensive research to find out their history of manufacturing asbestos products. Nevertheless, this should not be a cause for concern, as we have a vast knowledge of most of the companies that exposed people to asbestos during the last century.
In the unfortunate case that the company in question does not have a trust fund and is still in business today, we will file a lawsuit against it, which will result in financial compensation within a longer period of time. However, we will make sure you still receive the money you deserve for your physical and emotional suffering.
Quality legal assistance for victims of asbestos exposure
With over 30 years of experience in providing legal assistance to victims of toxic exposure, our attorneys are ready to help you recover the compensation you deserve from the liable company, whether it is in our database or not.
Our legal experts will conduct in-depth research to discover additional evidence for your claim, as pertinent proof must accompany it, while our attorneys will take care of the majority of the paperwork.
The only documents you will have to send us will be your employment or military records, which you must retrieve, and your medical records, as your involvement in the legal process will be minimal.
This will allow you to focus more on your health and treatment. We are aware that most of our clients are in great physical and emotional pain, which is why we strive to make the legal process as easy as possible for them.