The main ingredients in baby food absorb heavy metals from the soil and water
Nearly all baby food on the market contains at least one heavy metal, according to studies, but you may wonder which ingredients, in particular, have a high concentration of neurotoxins.
Because the majority of ingredients in baby food are grown as crops, they are likely to contain significant levels of heavy metals, as they inevitably absorb the neurotoxins from the earth and water and also from the insecticides and pesticides sprayed over the crops.
The following are some of the ingredients in baby food, as well as baby food per se, that are very likely to contain a high concentration of neurotoxins, such as arsenic, cadmium, mercury and lead:
infant rice cereals
oatmeal cereals
food teethers
juices
snack puffs
purees
quinoa
wheat
lentil
spelt flours
dehydrated potatoes
vitamin premixes
Considering that the vast majority of baby foods on the market contain these ingredients, it is nearly impossible to avoid heavy metals. However, there are safe, non-toxic alternatives, and if you are a parent who is at a loss concerning what to feed their child, you can now request a baby food package donation from the ethical companies we collaborate with by filling out the form on this page. If your child already has autism, you can file a toxic baby food claim to obtain financial compensation from the liable manufacturers.
We offer superior legal assistance to parents whose children developed autism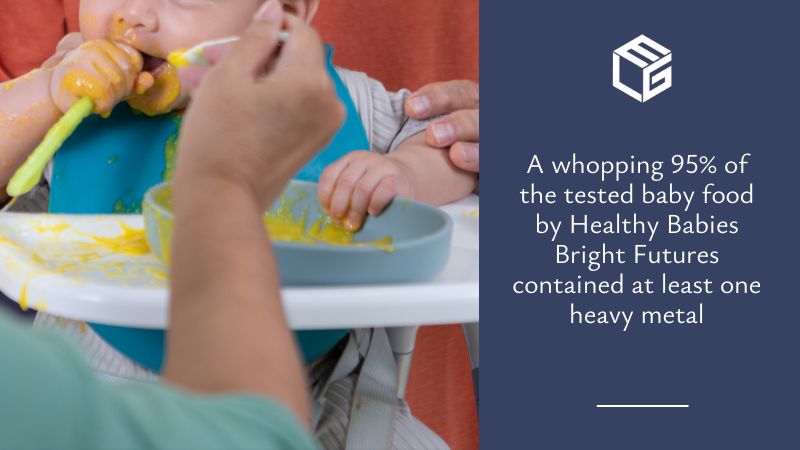 The primary area of practice of our law firm is toxic exposure, which means that our attorneys and legal team have the necessary resources and knowledge to help you recover financial compensation for your child with autism from responsible baby food companies.
To file a toxic baby food claim, all you need to do is give us a call, describe your situation, answer some questions, and send us the medical records of your child.
After our attorneys evaluate your case, you will know for sure whether you are eligible to file a claim. If you are, they will promptly begin preparing your toxic baby food claim for submission. In the end, you will benefit from the sum of money you are entitled to if you work with us.