Paraquat exposure has been linked to serious health effects, including Parkinson's disease
Among all commonly used herbicides, paraquat - a broad-spectrum contact herbicide widely used in the horticultural and agricultural sector - has the highest acute toxicity and mortality rate. Even when applied with protective clothing, health risks cannot be excluded. Fatal poisoning at the workplace occurs mostly when paraquat absorption through the skin is increased after prolonged contact with undiluted or diluted paraquat solution.
Evidence also suggests that prolonged heavy smoking of marijuana contaminated with paraquat may result in diffuse fibrogenic changes in the lungs, which induce genetic damage leading to DNA mutations with a resultant increase in the risk of lung cancer.
The commonly used commercial herbicide paraquat has been linked to an increased risk of Parkinson's disease, a chronic and progressive nervous system disorder that affects movement and is characterized by life-altering symptoms such as tremors, limb rigidity, gait, and balance problems that affect an estimated 750,000 to 1,000,000 Americans.
Immediately after inhaling a toxic amount of paraquat, an individual is likely to have swelling and pain in the mouth and throat. Within several days to several hours, the person may experience:
heart failure
respiratory failure
kidney failure
liver failure
pulmonary edema
muscle weakness
coma
fast heart rate
Have you been exposed to paraquat and later diagnosed with Parkinson's disease?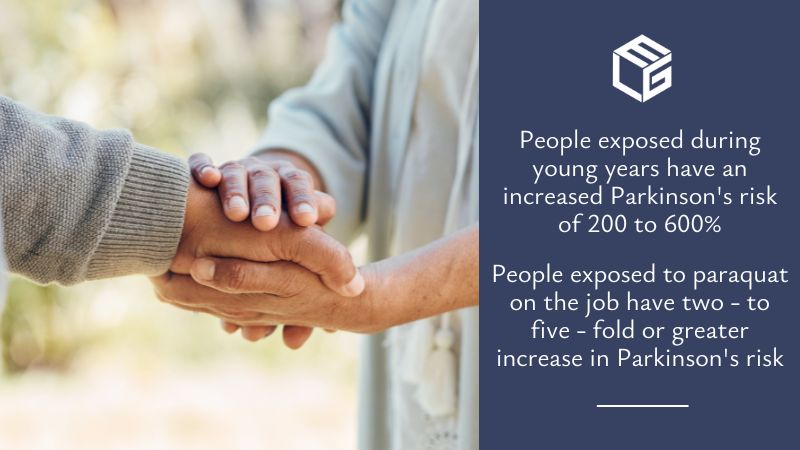 Since 1997, paraquat has been used extensively in research looking at the effects of exposure on humans, particularly its link to Parkinson's disease.
For example, recent research indicated that any exposure to paraquat within 1,600 feet (about five football fields) of a home resulted in an increased risk of Parkinson's disease by 75 percent.
Paraquat has been distributed and sold without adequate warnings, despite the manufacturer's knowledge about the link between the herbicide and Parkinson's disease, as well as other serious health risks.
If you have been diagnosed with Parkinson's disease and think you may have come into contact with the agricultural chemical paraquat, please contact our legal experts to investigate your claim.
Claims are being filed on behalf of farmers, agricultural workers, and licensed chemical applicators exposed to paraquat and who later developed Parkinson's disease.