A presumptive diagnosis refers to a disease one most likely has, but is not yet confirmed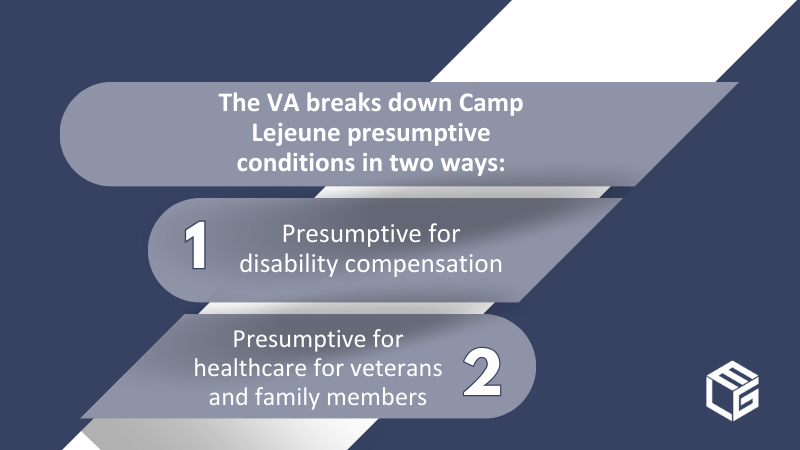 Because the drinking water contamination at Camp Lejeune between 1953 and 1987 was acute and involved many toxic chemicals, there are numerous diseases and conditions that can result from exposure.
It is important to know that if a family member of a veteran who was stationed with them at this military base develops one of the health problems below, they may also be entitled to financial compensation.
Likewise, if a military member or the spouse of one has spent time at Camp Lejeune while she was pregnant and her baby was born with a congenital defect, she may be able to recover money on behalf of her child.
The following is the complete list of diseases and conditions associated with drinking contaminated water at Camp Lejeune, as well as the diagnoses that may deem one eligible for compensation.
Even if you have not been diagnosed with one of the presumptive diseases but have one of the other health problems, you should still contact our attorneys, as chances are there is a direct connection between drinking contaminated water at Camp Lejeune and your diagnosis. After you provide our legal team with your medical records, we will thoroughly investigate the documents, and our experts will determine whether there is a causal relation between your condition and exposure to toxic drinking water.
Since 1990, our law firm has been offering quality assistance to victims of toxic exposure
Our attorneys have the necessary knowledge, experience, and resources to provide you with the legal assistance and guidance you need if you were stationed at Camp Lejeune and subsequently developed a disease that might be the consequence of drinking contaminated water.
A great part of our clients are veterans, which is why our law firm is perfect for you if you are in this unfortunate situation.
Because we understand that most veterans struggling with the effects of toxic exposure need a lot of time to focus on their health and treatment, we will do all in our power to make the legal process as easy as possible.
As a veteran, you will only have to provide our legal team with your military records, which you will have to retrieve, and your medical records. This way, we will have a starting point in determining whether you meet all the eligibility requirements to file a Camp Lejeune toxic water claim or lawsuit and a VA claim. It is important to know that because we work on a contingency fee basis, you will not have to pay anything until we obtain compensation for you.