The link between paraquat and Parkinson's disease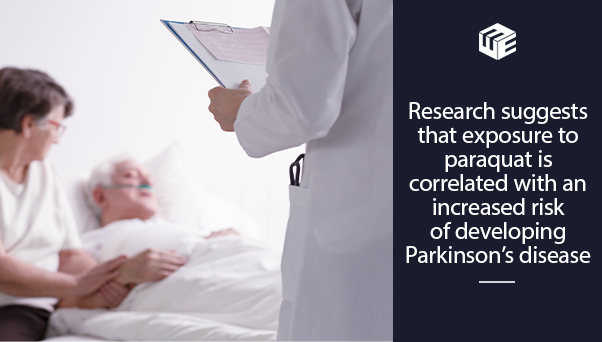 Many epidemiological studies concluded that paraquat is a toxic chemical that greatly increases the risk of developing Parkinson's disease.
This illness is a neurodegenerative disorder that causes brain cells to gradually degenerate and die. Unfortunately, professional workers, specifically farmworkers, direct applicators, and other professionals who have used paraquat, have an increased risk of developing Parkinson's disease.
If you or a loved one had come into contact, used, or were continuously exposed to paraquat herbicide and experience any of the following symptoms, you should consider making an appointment with your doctor:
tremors which usually begin in the hand or arm
loss of sense of smell
muscle stiffness
bradykinesia or slowness of movement
speech impairment
balance impairment
extreme feebleness in the movements
Paraquat is popular because it's cheap and effective, but it's highly poisonous like many chemicals. Therefore, it's a highly controlled, lethal chemical herbicide with strict instructions to keep handlers safe. Nonetheless, an emerging body of research suggests that mere exposure to the chemical is correlated with an increased risk of Parkinson's disease. 
Many countries have outlawed the herbicide, including the European Union, which banned it in 2007, mainly because of the uncertainty surrounding Parkinson's disease.
As researchers work to tease out the nature of that correlation, paraquat remains one of the most widely used herbicides in the United States, and Parkinson's disease among the most prevalent and costly brain disorders.
The financial burden associated with Parkinson's disease
Being told you have Parkinson's disease is devastating and life-changing. As the condition progresses, people with Parkinson's who are still working often reduce their hours or have to retire to contend with the debilitating condition. They may also lose out on benefits as the welfare system becomes more difficult to navigate.
There are many medications available to relieve the symptoms, although none yet that reverse the effects of the disease. Medical costs can range from an average of $2,500 for newly diagnosed patients up to $44,862 for advanced patients in a skilled nursing facility.
If you have been exposed to paraquat and developed Parkinson's disease, you can receive compensation for your medical bills and emotional strain. While financial compensation cannot prevent or reverse the diagnosis of Parkinson's disease, it can help you recover the financial security you need to cope with medical costs and other related expenses.
Paraquat makers knew about the risks but failed to warn users of its neurological side effects
Pesticide manufacturers are responsible for providing safe, non-defective products that are not unreasonably harmful. If there are any risks associated with using a product, the manufacturer must provide adequate and timely warnings.
If the manufacturer fails to perform this duty, Parkinson's patients whose illness might be attributable to paraquat exposure could be held liable for the injuries caused by its product. Therefore, an experienced legal practitioner can help you cover reimbursement for:
medical bills, both past, and future
loss of earning capacity
mental anguish
burial and funeral costs, in the event of a loved one's death
It is important to note that only a Parkinson's disease diagnosis makes you eligible for seeking compensation from liable manufacturers. Our team of experts would like to speak to anyone exposed to the pesticide paraquat dichloride at work or in their community and was later diagnosed with Parkinson's disease.
If you or a loved one developed Parkinson's disease after working with paraquat or have been exposed to a nearby farm or orchard that used the pesticide, call us today to find out how we can help you.